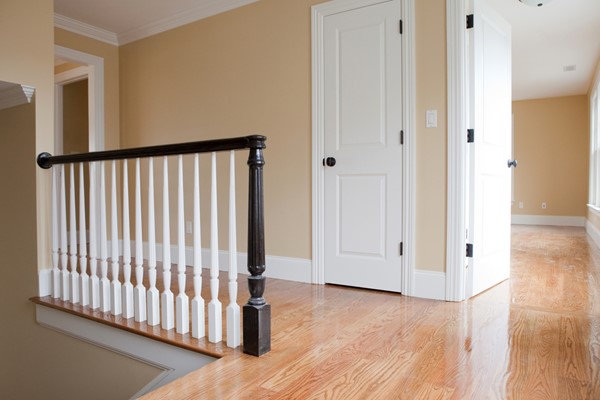 Home architects like to do lots of creative things with stairs and landings—and for good reason. They create lots of "oohs" and "aahs" when a prospective buyer walks into a home. Many times, it is that spectacular view that sells the home. Buyers may even overlook other missing items in the house because of the initial entryway's striking aspect. Who knows, maybe you were such a buyer. Now you have this huge landing that you have lived with for some time that seems like wasted space.
You have tried to come up with something to do with it, but nothing seems to work, or it is costly. Different ideas might work in your situation. Here's just one:
Create a library
First, think about creating a library. Remember all those books that are in boxes because you don't have a place put them. You even thought about getting rid of them during the last move. Why not display them? Remember those spectacular scenes in the movies where characters in those expensive old home walk into a library that has floor-to-ceiling shelves filled with books and some classic pieces of art? 
That look can work on your landing. It may not be so imposing, but then again you might not have "that many" books. Expensive finished wood is the nicest, but basic black shelves give a very classy look. Go to a store that sells inexpensive furniture. They usually have basic, reasonably priced shelves that you put together that are about two to three feet wide and range from three to six feet tall. 
Get the exact measurements of the ones that you like the best and are the most affordable. Now you need to measure the length of the walls on your landing as well as how tall they are from floor to ceiling. Often, landings have varied ceiling heights to account for the stairwell. Now you can figure out how many shelves you can set side by side across each wall. Remember that if you have a corner where two shelves would meet you need to consider if you want the shelf to overlap or not. If you do not want them to overlap then you will have a hole in the corner, but don't worry, you can cover that up with a decorative top. Now you also need to calculate what height you need. Do the fixed heights work, or can you stack one on top of another to get them as near as possible to the ceiling? 
With calculations in hand, return to your retailer and purchase the shelves. Once you buy all of the shelves, put them together and carefully stack them in place to see how they are going to fit. Adjust them until everything looks good, and you only have the corner space, or maybe you have an area where on one wall the shelves do not quite reach the corner. You are now ready to set the shelves permanently.
Since you are putting books in them, it would be best to attach them to the walls and each other. Here are the things you will need:
Screws that are short enough that you can connect two sides of the shelves without sticking through the laminate: Since the shelves often are particle board, 3/4-inch sheetrock screws work nicely. If your shelves are black, buy black screws. 
Your local hardware store usually sells strips of a laminated board that are three inches wide but varying lengths. You need to have one piece for each shelf unit that is the width of the unit. You will mount these strips flush with the top edge of the back of each shelf using sheetrock screws that are about 1.5 inches. These give you something to use to mount to the wall.
You will need a stud-finder if you don't have one.
You will also need 2.5-inch black sheetrock screws to mount your shelves to the wall.
Once you have all the shelves together and the board installed behind the top edge, now you can set them in place and connect each shelf unit to the one on either side. Set them in place to do this. 
Once that is done not you can find the stud and put a 2.5-inch sheetrock screw through the three-inch mounting board into the stud. By doing this, your shelves are now stable and will not fall over when the books are in place.
If you do have a section that is not quite long enough, now you can use that same three-inch laminated board to fill that gap. You will need to cut the board to fit the space you need. Once all of the bottom shelves are in place, you can now stack additional shelves in those places that you need to and mount those to the wall as well. 
Finally, if you do have a visible corner open space or space between shelving units you might want to consider visiting your hardware store to buy a board the width of the shelf depth. This board can be a basic piece that you paint a high gloss black, or you could buy a beautiful piece of oak or other wood and stain it. Some DIY stores carry matching laminated shelving that you can buy that is finished on three sides that you could use to top the shelves and fill the gaps.
Now all you have to do is unpack those books and remember when you bought them, and see ones you even forgot you had. Unique storage areas add value to your home. Check with your real estate professional to see what other simple additions you can make to increase your home's value.